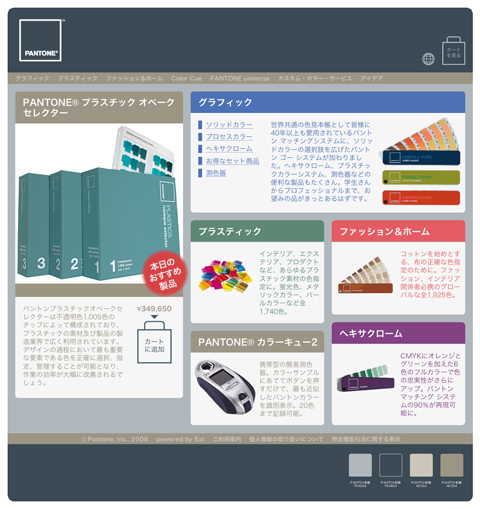 Pantone needed a new – unique – shop for their Japanese website.
The global website they have is labyrinthine at best, so my job was to simplify things for Japan, which is still an emerging market for Pantone. I was asked to come up with an art direction then take it to production level after approval from the client. To my amazement head office approved the design straight away [even though it's very different to the global site]. Needless to say, they are very happy with it.
A few features of the new site are:
colour coding. Each area of the site is a pantone colour combination – with corresponding swatch at the bottom of each page – which helps users remember which area a product belongs to.
Rounded corners. For browsers that natively support them. Currently IE6 and IE7 have square corners, which also looks nice!
Full validation. Pantone shop Japan is fully standards compliant.
Along with some other spicy things like jquery drop down transitions, hopefully this incarnation of the shop translates pantones image better to the Japanese audience than previous incarnations.
additional programming by Erik Johansson