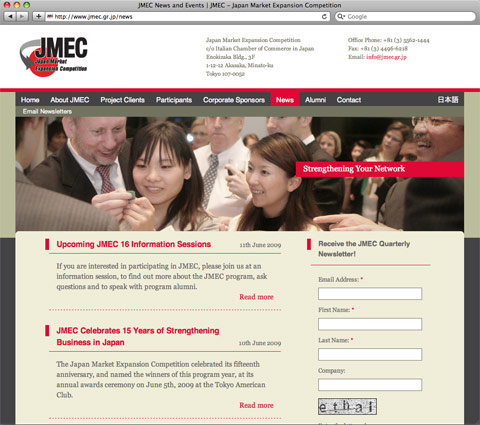 JMEC (Japan Market Expansion Competition) needed a new website to communicate their objectives to a wider audience, as well as providing tools for their applicants. We delivered.
JMEC say it best themselves:
The Japan Market Expansion Competition (JMEC) is a business training program in Japan, which is centered on a business plan competition. The dual objectives of the program are to strengthen the skills of up-and-coming executives, while paving the way for foreign companies doing business in Japan.
I was responsible for the architecture, site design and front end coding in this case. We wrapped the resulting mix over Drupal to serve the site. JMEC are very happy with the result and if you yourself fancy taking the course, apply here!
Many thanks to Erik Johansson as always.