do or do not
December 18, 2012
Idly walking into the bank on a sunday and the adjacent ATM is beeping at me, looked inside and a fistful of cash is sitting there waiting to be taken. The owner clearly going through the motions and forgetting the cash.
Would have been so easy to take.
Let the ATM swallow the cash back.

FujiQ Rollercoaster park
November 24, 2012
Today I went to the FujiQ Highland Rollercoaster park with my bird and another couple. Park is touted as featuring some of the "fastest and scariest rides in the world". Turns out, this is 100% accurate.

Helping out for Halloween
October 29, 2012
Spent the weekend helping (well, carrying a bag) out my better half KS with her Horror Make Up stand at Peninsula Hotel.
Was interesting seeing all the people in costume, we too dressed up. Also interesting was watching KS at work, she's very talented. Soon there were many people walking around with realistic bullet holes to the head, scarred faces and puncture wounds to the neck.
Here's a photo of me being shot by an un-identified assailant, who then disappeared back into the night.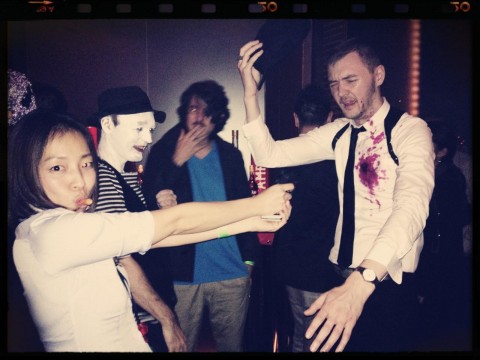 There were a fair amount of posh twits at the parties, considering the entry fee. Smuggled in for free, I didn't much care, but a beer would have been nice (they only had cocktails on both nights). Some of the stand-out costumes were 3 smurfs, a guy with no head and these two Japanese gods: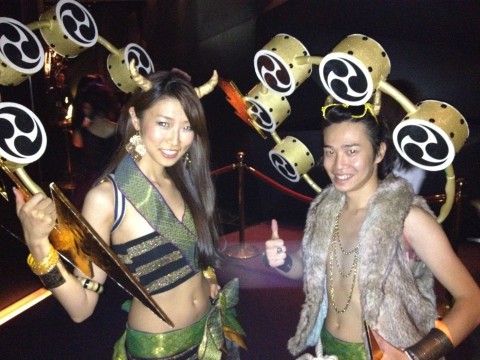 Now UX designer at Wizcorp
May 21, 2012
Well, the secret is out, I took a fulltime job at a mobile game developer called Wizcorp, here in Tokyo. My official job title is UX designer, however I am on the design team and do a lot of other things besides. This may change in the future as the company changes, or as projects change, but I'm happy to be working in a dynamic company with a team of intelligent people. Wizcorp builds apps for iOS and mobile using it's own technologies.
My personal apps are somewhat in limbo now and I certainly don't have the energy for freelance projects. I plan to work mostly on R&D in my free time, as any sole developer; I had a lot of prototypes on the boil.
Prototyping, R&D and user interaction are really what interest me about game development, in my new role I develop the wireframes and interaction flow of apps, in a team of developers and artists. In my free time I mess around with ideas that I can build quickly and alone in Unity or Titanium, this suits me just fine.
Is this the death-knoll for my carrer in web design? I've been trying to kill it off for the past few years, after working with the web on and off for my entire adult life. However after an internship at the age of 16 making games, it could be said I started out in games, a long time coming but I have travelled full circle back to what I love once again.

Tumbling
February 20, 2012
Recently been checking out Tumblr, wondering what I could do there. Often posting strange videos of robots to Facebook so that was an obvious choice; cool robot news!
I also always wanted to write down my dreams directly after waking up, only one post in but hope to maintain this one too. The copy is a real brain dump and not going to be edited, it's also sexually explicit in places (hence why it's not on here!)
All in all I like the anonymity of Tumblr, you really could write anything on there. And people do. Huge swathes of the site are dedicated to self-shot nudity also, that is astonishingly submitted by users. The internet is changing all the time and all around us.
I hope Tumblr survives where so many of these types of sites have failed, if only to be a snapshot of what society is doing right now.

I've decided to write a book
February 18, 2012
On webdesign. 2 pages in!

Exiting Hibernation
February 12, 2012
In December 2011 I moved my office computer home for a while, to hibernate for a while.
Tomorrow I shall cart the computer back to my office and resume normal service. I haven't been resting on my laurels however; just completed another illustration project for the National Maritime Museum in the UK, worked on a new app, and some other bits and bobs.
"Cabin fever" would be the best phrase to describe the outcome of working at home. The change of scene will perk me up no doubt.
Also, coming in the next few days will be the 2012 version of hawkenking.com – some minor changes, new logo and so on.

RIP Jean Dickinson (Jean King)
March 16, 2011
My dear old grandma has passed away, a month after her beloved husband Ron.
For the family they are re-united in our memories.
I'll always remember the wonderful lunches my gran made, and thank her from the bottom of my heart for putting up with me as a teenager.

Dawning reality.
March 12, 2011
Not much happened today, as I was glued to the TV. Went to the local park for bit as the aftershocks in my apartment were unsettling. Bought up some water, food, candles, torches etc. Timberland boots still on from the night previous. Made a survival kit with some medicine etc. and helped out a few friends.

Just like any other day.
March 11, 2011
Today I woke up a little later than usual, had my daily bath (the "think tank") where I plan the days or next weeks work in my mind, grabbed a slice of toast and some tea and headed to the office. My daily journey involves a 2 minute walk to the station, jump on the metro 2 stops and another 2 minutes walk to the office. Routine and taken for granted.
Sitting in the office was just like any other day, fired up my Mac and started trawling through Xcode.
2:30pm. At first, the shakes to the office here in Tokyo were slight, but they escalated in intensity. Everyone in my office uses headphones to enter the "zone" as it were. Hardly a noisy office but we all rent desks independently from one another so no radio or other music system is in effect.
Heads started popping up from behind partitions like meerkats inspecting the safety outside their home. Eyes met. We all knew this wasn't your average earthquake and got the hell out of there. Mercifully we are only on the 3rd floor. (US system in Japan, literally 3)
Our street was packed with office workers who had the same idea. We all stood in silence as the quake started to escalate to it's epiphany. Screams and shocked cries replaced the silence as the street turned to Jelly.
Near my office is a hair dressers on the 2nd floor. Two old ladies were getting their hair curled. Seemingly uninterested in this once in a thousand year event. Curled hair is far more important in this part of Tokyo.
As the quake hit, a postman on a motorbike came up the office and delivered the post. He went about it with routine glamour.
After what seemed like a whole packet of cigarettes and several liters of canned coffee I returned to the office, I had a quick chance to change my facebook status but phones were out. Below is a photo of what we found. A decision from the building manager was made to lock the place up and leave. Wave after wave of aftershocks told us this was a good idea. At this point, no one know the full extent of the quake and what it might bring or when it might end.
I live within half an hour or so walking distance of my office so I decided to go home and check on my apartment. Here's a photo of what I found inside.
So as the quakes kept coming, Twitter and Facebook evolved from pointless time wasting activities to my first life line. Whats happened? Where did it happen? Everything was found out from the network of friends and colleagues in Tokyo. Slowly it dawned on us that this event was catastrophic in North East Japan. Just how much devastation the tsunami wreaked was yet to be found out, reports of a 10m high wave coming 2km inland seemed unreal at first, thats taller than your house. Mercilessly the reports were true.
All I could do was create a path amongst the debris of my apartment, so that when I return with enough whiskey to take out a horse, I might not cause more damage to my already ruined bubble of existence.
Not a single building collapsed in Tokyo.

R.I.P. Ronald Dickinson
February 3, 2011
My paternal Grandfather passed away many years ago, I only met him once. My Grandmother remarried (sometime before I was born) to her sweetheart, Ron.
Ron passed away peacefully in his sleep today and will be dearly missed.
When I was a child we visited him and my grandmother every weekend. He was very good with us and tought me his passion, Archery. Before he was too old he made me an American Longbow.
Ron was an engineer for Rolls Royce for most of his working life. Working primarily on the 1st generation of jet propulsion engines, continuing the work of Frank Whittle. When visiting him we would always draw some different types of engines and explain to me how they worked. His work was awarded by the Prince of Wales but even this accolade couldn't help him figure out how to re-wind DVDs. A classic engineer of the 50′s and 60′s.
His career led to the refinement of blast forming metals, numerous engine patents and other marvels. His head was full of invention, a busy mind leads to a long life and thats what Ron was gifted with.
R.I.P. Ronald Dickinson. My Grandfather.

Jog on
January 11, 2011
Bit of a new routine this year. I've lived next to Tokyo's largest park for about 5 years, so this year I decided to take a jog in the morning. The rule was if I wake up before 7am then I force myself to get out of the hours and do a lap around the park.
Working out fine so far.

Why Monstermakr was given away for free.
November 5, 2010
This halloween, at Dadako Studios we worked on a Horror photo-booth style app for iPhone. While thinking I might make some cash on this, I actually ended up giving it away for free. Here's why:
Back around May 2010 sometime, I thought of making a version of Facemakr that could be used for halloween, I registered the domain and drew an icon for this project at that time. The actual app production sat as a note on my calendar, glaring at me as October drew nearer. Consumed by Facemakr updates and a client project for 3 solid months, Monstermakr didn't get a look-in until the end of September.
During the time between May and September, Facemakr did very well. This was in part to having Apples support behind us, with promotion on the app store. I really couldn't have made this kind of impact if they didn't like the app. This also has enabled to help me re-coup the thousands of dollars I sunk into development (Facemakr was a bitch to build, it's a custom engine). I imagined that if Monstermakr was approved in time and picked up by Apple in their seasonal Halloween section, Monstermakr could at least cover the cost of production. It's using features exclusive to iPhone and has a unique look to it.
Monstermakr was also pretty complex to build, and we faced some real "make or break" problems. We got there in the end, Submitted, Approved. Ready some 2 weeks before halloween. Promo video (above) shot, you-tubed, emailed to everyone I know. Blogs written to. Facebook page up. Mailing-list christened. Everything was set in place to have a successful launch.
It got better.
Apple wrote to me asking for promotional artwork! That was the green light I'd been waiting for, there was no way the project could fail!
Halloween Friday arrives (this is when Apple typically feature apps on the store). Monstermakr is nowhere to be seen. Saturday comes, still nothing. Sales sit in at about $20. (about 1% of what I need to cover the project internally) – This year, Apple didn't go all out and promote Halloween apps it turns out. Nothing wrong with that, just the way the cards fell on the day.
So, my main chance is gone. What now?
There was a simple choice: Either make whatever comes in over the next two days (probably around 20 sales) or offer it up for free. It's not a question to take lightly, making apps for iPhone is a high risk / high return business. How could I make the app store work for me?
I again wrote to pretty much everyone, pimped myself for 3 days solid over Facebook, Twitter, youTube, Flickr, mailing lists. I blagged re-tweets left right and centre. And I'm glad I did, because Monstermakr rocketed up the free app chart and peaked at 4000 downloads for halloween! Not bad for an app that is free for what was essentially 1 day.
You may be thinking; "so how does that work for you, exactly?" – Good question.
Awareness.
Thats an extra 4000 or so pockets Monstermakr is in, instead of 20. (of course, $4000 would have been better, but 4000 x $0 = $0 so…)
There's a link to Facemakr in the app, and Dadako Studios is linked there too. I saw an increase in Facemakr sales after a few days, when people started exploring the app.
I should have made Monstermakr free from the start.
Then there would be a lot more pocket monsters out there.
@hawkenking

how about facemakr then?
June 14, 2010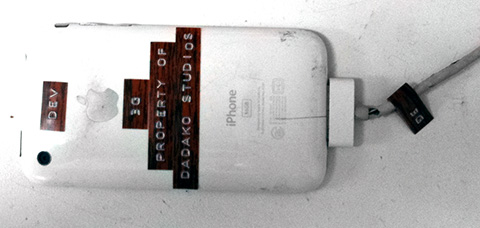 Exactly 2 years on, to the day, I make this post. I've been quiet for quite a while and with good reason: Facemakr became an iPhone app, Dadako became a games studio.
A couple of years back I wrote a blog post on how I'd like to make iPhone games. Everyone has ideas, right? (Link to that post)
I'm well trained for the task at hand, having worked in a games company as an art director for a few years, I was often planning games for clients. How wrong can it go?
Not that wrong as fate would have it; I had my arm unceremoniously twisted late last year to become freelance once again. The only thing I was lacking to start my own games company was time and money (like most of us, I guess).
Now I had time, plenty of it. Money, not so much.
I have ideas, I have something called Facemakr. What to do?
Several business plans and much grovelling to investors later, I was pretty much back where I started. Tokyo is a hard town to find capital in! As many people will let you know, the tried and tested way to get investment here is to move.
Tokyo is my home, I'm not about to upsticks just for the sake of starting a company.
Realising that the only way to start this is on my own, I set out to make a games company with whatever finance I had. I begged, borrowed and stole. I ate noodles for months. I made agreements for delayed payments. I crammed incredible amounts of new knowledge into my tired peanut brain.
And the rest, as they say, is history!
My first title "Facemakr" was published in March of this year, maybe a little prematurely, but now in full swing – it's been reviewed in 9 languages across the internet, to growing acclaim! It's the first application on the iPhone that uses my custom technological solution. (although, no one really cares about the tech – it's the reason the application exists.)
The app was featured on the US store front for about a month, and then featured in 4 more countries. The iPad version was the best selling Social Networking app on the US store just hours after it's release!
I am just about to release a new version & start rolling a new project into development with 3 freelance staff. Ironically I can be based anywhere in the world with this setup.
To say this process has been hard, is probably the greatest understatement of my life. I have accumulated a mountain of unpaid bills, bar tabs and an angry landladies. (Which, I can now happily un-accumulate.) No one said it would be easy, but it is possible, without investors. Thank you to everyone who helped me along the way, your encouragement and kind words were investment enough.
That is how I learned to stop worrying and love iOS4

Compatible with iPad logo
March 19, 2010

Couldn't find one so I made one. Please use freely. Cite me at this URL if you are feeling generous.
(click on the image above to download a vector EPS)

WiMax
October 23, 2009
My internets had all run out so it was a good chance for me to retain my electronic gentlemen status by investing in new gadgets, namely; WiMax!
The process is rather simple – I went to an electronics store, filled out the form, got a 15 day free trial & the hardware. There is only one device per brand / store. Mine is i-o data (LABI), which was cheaper than the BIC CAMERA model (by 4000 yen) – they are essentially the same.
The hardware consists of a router and a usb key. The key is the arial, which can be plugged into my laptop while I'm out and about, and the router works at home. (it also makes my $300 apple router rather obsolete) Getting connected is as simple as typing in the WEP key printed on the router.
Out and about is a little trickier – there are no drivers for the mac. So it's a windows only experience right now.
Speeds are actually realistically faster than my old old wired 100mbit connection, however it's only 40mbit – and only works in the Tokyo Metropolitan area. I tested this by greedily getting my hands on the largest files possible at such short notice – 1080p apple trailers. My old connection would have to sit and load half way through. No such woes here.
Costiness is also rather reasonable, about the same as you would pay for your home connection. Hardware is a little over 17,000 yen (about $185 all in)
Out of the box WiMax lets you connect all the computers within your house by simply logging onto the wifi network the router creates. No fuss.
WiMax works globally too. So say for example for some reason I need to go to London or New York, tomorrow, I only need to bring my USB key and it'll use my account, with no change in monthly fee. Roaming is essentially part of the deal.
Maybe when they get it working on the mac, I'll be able to do that.

The problem with mobile me's iDisk
October 19, 2009
Good afternoon, my name is Hawken and I trust the cloud.
For years I knew there was something missing from my life. I felt this emptiness inside. All these different computers I have but none of them are connected to one another.
Then, I heard of this thing called .mac. I was hooked. All my data synchronised between machines, bookmarks all the same on my browsers – whether it be my iPhone, work machines, home machine or laptop.
Names changed but the service remained the same, in-fact it got better! Now I could sync all my files! This was just getting better and better, my experience was peaking! No more swapping and burning of CD's. No more instances of "not having the right file". No more did I need a USB key just to carry my data home. The iDisk solved all my problems and I lavished my hard earned cash on it willingly.
Until today.
Whilst re-naming some files, the all knowing iDisk had a technical error and decided to delete my data from all synchronised computers, and from the cloud. This was a bombshell – 3 months of work and a year of steady use, *poof* gone, in a blink of the eye.
I got in touch with my dealer and told them I need my fix. They told me there is no way back, and in two weeks time they will "have a look".
How can I run my business with this shoddy service? I can't wait two weeks! Does the rival drug "dropbox" do this? (no – they have user editable delete/restore histories)
Climbing into my time-machine offered no respite.
Good afternoon, my name is Hawken and I trusted the cloud.
Luckily, one of the synced computers was bound to have kept the files, because it hasn't been online for a bit. I got in there, turned off the wi-fi and copied the iDisk. Situation averted. Re-populated. A virtual "V" for victory against the evil empire.
I got lucky. Maybe next time this won't be the case. They are out to get you.
My addiction to the cloud, is over.?

Tokyo 2.0 chat
October 16, 2009
Come and chat me up at the Tokyo 2.0 web event on Monday the 19th of October.
For a few years now Tokyo2.0 has been holding its monthly web seminar at various locations in Tokyo. Due to it's ever expanding size the event is currently held at Super Deluxe in Nishi Azabu.
Facemakr was initially invited to participate in this event, however this month instead of holding a seminar, Tokyo2.0 shall be playing host to 10 independent web startups. Informal chats can be held with these different web folks, who will be manning mini-booth style islands.
Super Deluxe will probably start filling up from around 7pm, if you are around drop in for a chat – I can tell you all about Facemakr and my freelance work. Maybe buy me a beer if you're feeling generous. 

Cherry blossoms Tokyo
March 29, 2009
Once a year, people in Japan can take a bit of time to relax in the park and have a drink – problem is – most people do it on the same day.
Luckily there is a gigantic park next to my house, so this is where we would make our merriment. Staking out a spot near some trees and some people I vaguely know (I dare you to walk though the park and not see someone you know this time of year) we proceeded on the task at hand – getting blasted!
Eventually there was darkness, and chilliness, and … drunkenness. But musicenness also! After loosing practically everyone in the dark, including my own Mother whom I was charged with keeping safe (actually she just went home it turns out), I decided to go for a walk to the shop.
By the time I got back – after making my way to the same patch of woods – there was no music, no people. Not even detritus or evidence of merriment. It was like turning up after the circus had left town – you know fun was had here, but now it's gone.
Unfortunately so was the park-worthy mat I stupidly borrowed from my kitchen floor that day.

Mother!
March 21, 2009
Waiting at arrivals in the airport is a strange experience. You are all these thousands of miles away, but yet at a selected time and place, you can meet anyone you like! All it takes is an email.
Christmas 2004 was the last time I saw my Mother. I was wondering what would be different. Funnily I got rather apprehensive to her arrival – we had already mapped out what we were going to do for these three weeks – but there's always the chance that when people come to Japan they freak out. As a matter of fact I think it's required. Also we would be sharing sleeping quarters for three weeks with her legendary snoring.
Plans included taking some time off work, going down to Kyoto, cherry blossom parties, walks next to the sea, staying in traditional inns, bathing in the hot spring and boozing in dingy standing bars with Japanese sallarymen under the railway bridges of Shibuya. I wanted to show her a slice of my life, and a slice of Japan.
As I stood there waiting for someone I knew to come out of the arrivals door, all these plans and more were being formulated – turns out we did them all too!
Mother arrives, all is good.
I was sad to see her go in the end, I can only hope I gave her a good enough impression of Japanese life. (she got lost a few times when I was at work, and proceeded to consume all the treats from England she bought me, as punishment I guess.)

journal/